Peritoneal Dialysis Therapy Provides Patient Opportunity to Serve His Community in More Ways Than One
For more than 20 years in Tomioka City, in the Gunma region in Japan, Hitoshi has found joy in selling gelato cups that are famous for their rich taste and locally sourced ingredients.
However, at age 40, Hitoshi's life took a turn when his doctor informed him his kidneys were failing due to high blood pressure, a previous heart attack and a recent coronary bypass surgery. Determined to remain working in order to manage his thriving business, Hitoshi's doctor presented him with an opportunity to initiate therapy on a Baxter automated peritoneal dialysis (APD) system, which allows patients to manage their care at home, typically while they sleep so they can have their days free from therapy.
"Before my diagnosis, I had just bought a new ice-cream maker that came with financial obligations that would require me to continue working into my early seventies," said Hitoshi. "When I learned that I would be able to conduct my dialysis at night on APD therapy, I agreed on the treatment without hesitation."
PD therapy also allowed him to focus on another passion, which is helping to reinvigorate his hometown of Kanra. Hitoshi has forged countless initiatives to help foster local youth and create a better lifestyle for all residents. His diverse activity set includes creating a local soccer team, holding theater performances, and working as an administrative counselor for the Ministry of Internal Affairs. He was also recently appointed chairman of the town's newly established Administrative Appeal council.
"I believe real community development is about creating a town where people can imagine spending their lives," Hitoshi said.
I want other people struggling with the same illness to look at how I lived my life, and think about the opportunities that lay before them as well. Life is for enjoying, and hardships are just a natural obstacle to overcome before you can smile again.

Hitoshi, Peritoneal Dialysis Patient
Baxter Japan to Introduce New APD System with Telehealth Capabilities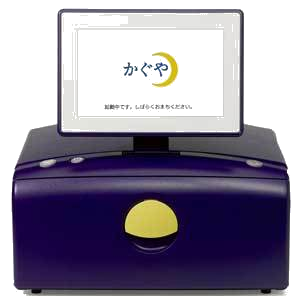 Nearly 40,000 patients initiate dialysis in Japan annually. Baxter is committed to supporting the  growing number of renal patients with new innovations, such as the KAGUYA automated peritoneal dialysis (APD) system with SHARESOURCE remote patient management.1 The APD system was designed to create greater access to renal therapy in the home. KAGUYA provides patient-friendly features like voice guidance and animated graphics, and includes a touch screen that guides patients through the steps of their daily treatment. SHARESOURCE is a two-way, cloud-based telehealth platform that allows the patient's healthcare providers to remotely view and manage their therapy. Baxter Japan plans to launch the system in late 2017.